Market Recap for 2018 with a 2019 Outlook
January 9, 2019
Mueller Report, Yield Curve Inversion, and More – What Does This Mean to You?
March 29, 2019
February 2019 Market Update
Fluent Financial Market Update as of February 15th, 2019
The S&P 500 is up 10.4% this year and the Barclay's US Bond Index is up 1.1% YTD.  The MSCI All Country World Index (ACWI) is up 9.35% for the year.
The Federal Reserve is rethinking the need for up to two rate increases in 2019 and changing their tone publicly to a less aggressive stance.
Trade talks continue with China and appear to be making progress but this unknown outcome stills weighs on the market.
Internationally, the outcome for Brexit is still unknown and growth appears to be slowing which is causing concern for a possible slowdown in the growth of the US Economy.
WTI Crude oil is up over 22% this year to $55.59/bbl but well off its October 3rd, 2018 high of $76.41/bbl.
Fluent Financial has expanded our Options trading strategy to two more of our portfolios in expectation of volatile but sideways moving markets for the remainder of 2019.
The S&P 500 had a rough fourth quarter in 2018, down 14%, but since the lows on December 24th, the Index has returned almost 18%, 10.4% which has come since January 1st, 2019.  Much of the recent volatility in the markets can be attributed to comments made by the Federal Reserve Chairman, Jerome Powell, and whether the Fed would continue to raise interest rates from the current 2.4% level.  The stock market's steady increase of late can be attributed to a softer stance being taken by the Fed about what had previously been a rigid set of rate hikes that were going to occur throughout 2019.  The Federal Funds Rate increased four times in 2018 (from 1.4% to 2.4%) with the zero to two rate hike predictions for 2019 leaning more to the conservative side after Powell's latest comments.  The Barclay's US Bond Index was up 1.64% in the fourth quarter of 2018 but seems to have cooled through the first six weeks of 2019, up 1.1% as some investors shift their money from bonds back to stocks.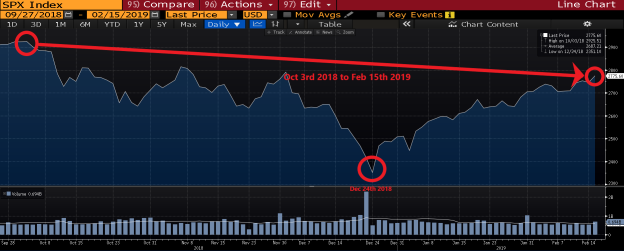 (S&P from Sep 28th, 2018 through Feb 15th, 2019)
The impact of a pending trade deal with China and how it will affect the market remains to be seen but we would expect an initial positive move on the announcement of such an agreement, followed by a lengthy "wait and see" period to verify China's compliance within the parameters of any deal reached.
The MSCI All Country World Index (ACWI) has somewhat mirrored the US market, down slightly more than 13% in the fourth quarter, but up 9.35% for the year.  Weaker than expected Eurozone economic data and geopolitical uncertainty changed the European Central Bank's assessment of risks to the downside.  China's latest economic readings pointed to further weakness, driving global economic uncertainty to its highest level ever.  The effects of a Brexit deal are still unknown, but the European Union appears to be making Britain's exit as punitive as possible to prevent other members from leaving.
WTI Crude oil is up over 22% this year to $55.59/bbl but well off its October 3rd, 2018 high of $76.41/bbl.  Turmoil and supply disruptions out of Venezuela and cuts by OPEC are being met with record production outputs from the U.S.  Current global demand appears stable but future estimates show this tapering off as China continues to increase their energy efficiency and GDP is on the decline.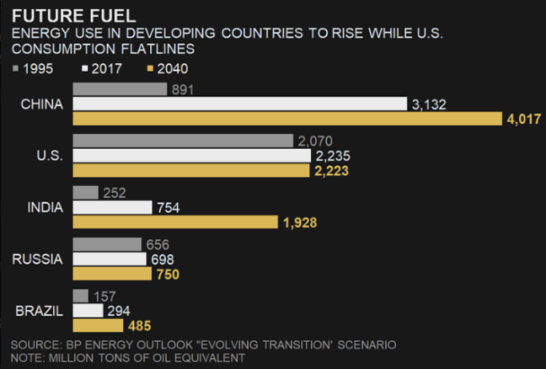 Fluent Financial is expecting continued volatility through 2019 and has expanded the use of options into six of our seven portfolio strategies.  Using either a Buy Write covered Call strategy or a Put purchase strategy (several portfolios use both) is a way we generate additional cash flow and reduce overall downside risk and thus reduce the volatility of returns within our portfolios.